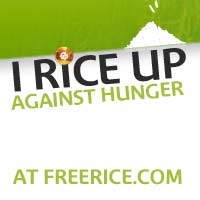 How would like to help feed people around the world who might otherwise go hungry? And how would you like to improve your English skills at the same time?
Well, thanks to this innovative website from the United Nations, you can do both. That's right, all you have to do is go online following the link below, sign up and join our English 9 Honors Group and start playing the game. For every correct answer, you'll add grains of rice to be donated and learn about spelling, vocabulary, grammar and literature at the same time!
Let's make this a friendly competition among the three classes with the class that donates the most per person earning a nice bonus.
Ready to play? Click below!