One of the ways we can extend our learning beyond the classroom is to take advantage of some of the amazing technology that is available to us. In this case, we'll be using an online site called Collaborize to assist us in discussing our work beyond the classroom and across the three English 9 classes I teach this year.
You'll be expected to use this site often, and be expected to contribute in a professional, meaningful way. This isn't Facebook. This isn't Twitter. This isn't texting. Rather, this is our semi-public discussion space for all English 9 students, your parents and your English teachers. Treat it with care. Act responsibly. Share intellectually. Have fun.
See you online.
Here's the link to get you started: SIGN UP!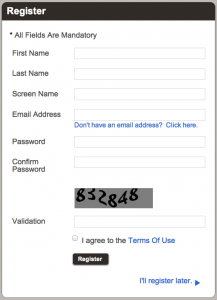 REGISTERING
Enter your real first name
Enter your real last name
Create a school appropriate screen name – I suggest your last name and first initial
Enter your email address (if you don't have one, follow the on-screen directions)
Create a password that you'll remember
Enter the password in the confirmation area
Type in the validation code
Read and click that you agree to the Terms of Use
Click REGISTER
That's it!
Mr. DeMiero has to log in and confirm your registration before you're activated