I used to think I was the only person alive who didn't have a tatoo. Well, I still don't have one, but now you can have one of your favorite digital photography teacher!
Not interested?
I don't blame you.
So, instead, how about just having some fun with some clever photo websites?
Okay, photo-manipulators, here's the deal: You must read the assignment sheet before you proceed. Here it is:
Did you read it? Don't lie to me. You don't want I should have my people check you out.
Capisce?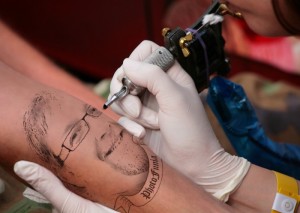 Okay, then. Here are my suggested photo-manipulation sites. Choose one for this project. Be aware that some of these sites get blocked by our District's filter some of the time or all of the time. Why? It's a mystery to me. Just warning you. Whatever you do, make sure it's school-appropriate and that you're using photos of yourself.
Here's the list:
Shark Week – Shark yourself! I think you're going to need a bigger boat.
Dumpr – A nice variety of groovy effects and templates.
FestiSite – Put your face on money.
BigHugeLabs: Poster – Your own movie poster.
BigHugeLabs: Magazine – Your own magazine cover.
FakeMagazineCover – Much like the site above.
PhotoFunia – Another huge assortment of groovy places to put your face.
Montagraph – A site with lots of pre-made templates ready for you to insert your face.